IT Model
---
The most critical part of the OverSight value proposition is the IT Governance Model. It encapsulates the essence of what is involved in supporting Directors, Executive Management, CIOs, IT Management and Advisors along the IT Governance journey.
---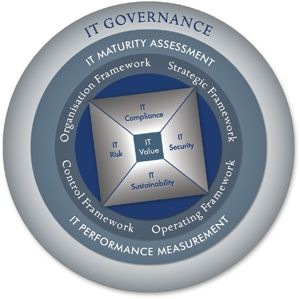 ---
Mouse over or Tap the image to read more about each of the parts of the OverSight IT Model.
You can also click anywhere on the image to see the model in full size.
IT Value is at the centre of the model because that is what all Stakeholders are trying to maximise from their investments in Information Technology. What are the appropriate IT Value drivers, ground rules, standards and roles and responsibilities are key questions but delivering value should not be a debatable issue.
Nevertheless, value cannot exist in isolation (and we have seen some of the consequences when this has not been recognised — Enron, Parmalat, WorldCom to mention a few). Consequently OverSight has built a set of contextual parameters (Risk, Compliance, Security and Sustainability) to frame the identification and delivery of value.
With a clear objective (Value) and an environmental context (Risk, Compliance, Security and Sustainability) in place the normal IT enablers (Organisation, Strategy, Operation and Control) can operate effectively and efficiently.
How effective and efficient the enablers are is what Directors, Executive Management, CIOs and IT Management need to know. Therefore OverSight has established Maturity Assessment (based around the Capability Maturity Model) and Performance Measurement and Reporting as a way of informing Boards of the state of Information Technology in their organisations.
Overall the IT Governance Model has 12 major components (including IT Governance itself) but over the Domains, Capability Groups and Capabilities this expands to over 1500 individual capabilities.