Our Approach
---
The main focus of our approach lies in SIMPLIFYING and DEMYSTIFYING Information Technology and presenting it in a way that is comprehensive but easily understood in business terms.
---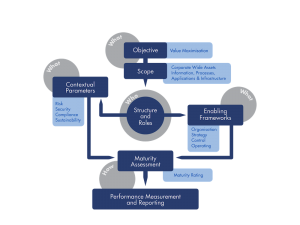 Value creation and maximisation is the all-embracing objective; scope covers the entire organisation; structures and roles identify who is accountable and responsible; contextual parameters describe the environment; enabling frameworks present the operating characteristics; maturity assessment gives a picture of the current position (and future aspiration) and performance measurement and reporting keep the score.
Click on the picture on the left to see a larger version.
---
There are four Key components at the heart of the OverSight proposition.
---
A Unique Information & Technology Governance Model
Traditional focus on Information and Technology governance has concentrated on Risk and Compliance or Control frameworks such as COBIT, VALIT, and RISKIT.
OverSight has developed a unique model that places the creation and maintenance of IT Value at the centre. IT Risk and Compliance, together with IT Security and Sustainability provide the context in which value is created and Organisation, Strategy, Operating and Control frameworks complete the IT Governance structure. IT Maturity and Performance Measurement (and Reporting) provide information for management and monitoring of the IT Governance journey.

A Full Library of IT Governance Processes
Oversight has developed one of the most complete set of IT Value Maximisation and Governance processes spanning over 12 Components; 60 Domains; 300 Capability Groups and 1500 Capabilities.

A Comprehensive Range of Products & Services
As a result of identifying the key needs of Boards and Directors OverSight has been able to develop a set of products and services designed to assist with IT Governance in a holistic and practical way.
For OverSight Solutions this covers a number of themes including Advisory Services, Awareness, Assessment, Assurance, Research and Reporting.
For OverSight Services the themes include Business Cases, Solutions Development, Implementation, Projects, Change Management and Managed Services.

A Group of Experienced & Skilled IT Professionals
Through our own staff and our partners and associates OverSight has built a substantial team of subject matter experts and implementation specialists.
These people have been chosen for their significant experience at IT Director, CIO and IT Management levels and their knowledge of IT Value and Governance in multiple industries and in many countries.
---
OverSight focuses exclusively on the IT Value and Governance needs of medium to large corporate organisations. These are areas that traditionally do not receive the same focus as other parts of Corporate Governance predominately because Directors do not have the knowledge and experienced to govern an Information Technology environment.
OverSight bridges the gap between the Board and Information Technology by providing appropriate advice and guidance together with specific implementation.