Our Philosophy
---
Our Philosophy is to provide the right information, methodologies, dashboards, scorecards, etc. to guide an individual organisation's VALUE MAXIMISATION programme(s).
---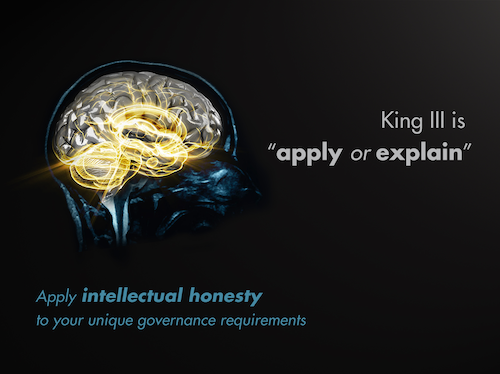 This is a very different approach towards the governance that has emerged over the last 20 years. In general legislation (e.g. Sarbanes-Oxley) and traditional auditing, have condemned governance to a compliance role which has led to it being recognised as a 'cost imposition' (rather than a 'value proposition') and a set of 'box — ticking' processes, which should be minimised at all costs.
---
Unfortunately this is a very far from what was intended by Prof Mervyn King and his committees in his King Reports (King l 1994; King ll 2002 and King lll 2009). His approach was to suggest a series of principles for improving Corporate (and Information and Technology) Governance and challenging companies to 'apply or explain' depending on their particular circumstances.
However in many cases in South Africa this is being interpreted as a 'yes / no' compliance to the King principles. [OverSight Solutions strongly recommends that the King lll principles are carefully analysed by each individual organisation.
We suggest that the principles are expanded into a set statements covering what is really meant by each principle and only then should each statement be assessed as to its maturity.]
OverSight Solutions fully subscribes to , and supports, Prof King's philosophy as well as his principles and practises. We have built our IT Governance model to reflect the 'spirit' of his initiatives as well as the 'letter' of his code. This model has been built and refined over the last 20 years through experience in many industries and in many countries, including the UK, Europe, USA, Scandinavia and South Africa; and we have been fortunate to have had along and exciting association with Prof King himself.